Pop Friday: "Revolution" Launches After Much Anticipation
September 21st, 2012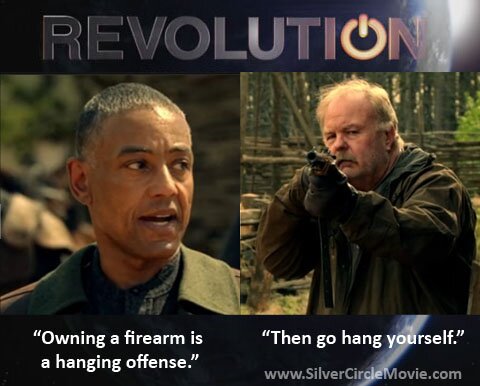 A seasoned geek approaches every new sci-fi with cautious optimism. Sometimes we are just not compatible, like Star Trek: Enterprise. And sometimes they break our hearts, like Firefly. It's no different with NBC's new post-apocalyptic fantasy series "Revolution," in which all electrical power shuts off, throwing humanity into a new dark age. I love the premise. I love the name. But the pilot episode left a lot of room for improvement. All potential and little satisfaction.

With a team like creator Eric Kripke ("Supernatural"), executive producer J.J. Abrams ("Lost") and director Jon Favreau ("Iron Man") I expected something truly ground breaking and epic. What I got was a familiar cast of characters dropped in a new dystopia. We've got the wild-haired bass-ass heroine with a crossbow in Charlie, who's dressed like Malcolm Reynolds in a crop top. We've got the drunk lethal reluctant anti-hero in her uncle Miles. Never heard that one before. And we've got our classic authoritarian sociopath posing as government (but I repeat myself) that's been a cliché since Mad Max in General Monroe, the leader of the Monroe Militia. So, hopefully over time they find a way to breathe some life into these tired archetypes, but none yet.
Another fatal flaw, in my opinion, is that the series skips the first 15 years of the black out. We cut straight from vehicles screeching to a halt on the freeway and bewildered looks between drivers to cars being used as oversized planters with no sense of desperation between here and there. We open on the future with a now defunct Google Executive, Aaron, instructing a class of young students, "Physics went insane, the world went insane over night, and nobody knows why." Thanks for the refresher. I saw the trailer.
None the less… it's hard to go wrong with a post-apocalyptic story. Any series where the government collapses in the first 20 minutes is fine by me. It's like Walking Dead without zombies, in fact the rumor is that they used Hershel's farm in the background of a set. The world looks a lot like "I am Legend" with expansive cityscapes gradually returning to nature. But how they survived the black out and the years after are perhaps the most important part of the story. Skipping it seems like a huge misstep. Thankfully in interviews the producers of the series promise a lot of flashbacks in the coming episodes to flesh out the story.
The greatest success of the pilot by far is the epic pirate-style swashbuckling. Miles takes on an entire squad of Monroe Militiamen with a sword, a bottle of whiskey and a few tricks up his sleeve. Although the question remains… why is the Militia using muskets? The modern firearm isn't electric.
The central plot seems to be that Ben Matheson knows why the blackout happened, and managed to download some kind of solution into a USB drive before the lights went out. Monroe wants to know what Ben knows, but unfortunately Ben is dead, so he'll settle for his brother Miles, or his children Charlie and Danny. So it's your basic man hunt story right now. It's a bland start, but lots of potential in the world they've created. Hopefully they don't turn the lights back on too soon. And hopefully it lives up to it's name.
And don't forget to visit our official website to learn more about the Silver Circle Movie:http://SilverCircleMovie.com