#MovieMonday – The Boondock Saints
March 19th, 2012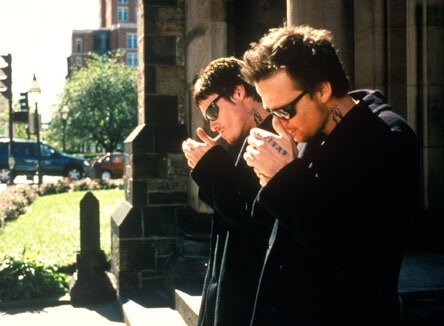 The venerated ancient Christian bishop, Saint Patrick, was actually a bit of a rebel by my reckoning and I've always enjoyed celebrating on his holiday. This weekend, I spent Saint Patrick's Day on a friend's ranch shooting AK-47s and other firearms while wearing my Silver Circle End the Fed shirt. (Sorry, Pasha– I hope I don't get us on a DHS watch list!) But most years I like to celebrate by staying in and watching The Boondock Saints with a few beers (green dye optional) and a few good friends. If you missed watching it leading up to St. Patrick's Day this year, or have never even seen the film, you should pick a night this week and make it happen. You won't regret it.
So what's the Saint Patty's Day connection? The Boondock Saints is about two Irish brothers– twins– who live in Boston and work a hard 9 – 5 job at a meat packing plant during the day, and spend their nights drinking with friends at a local pub owned by a nice old Irish man with severe Tourettes syndrome that causes him to suddenly and repeatedly yell the words (I'll just use the letters): "F! A!" The brothers are extremely devout, church-going Catholics and their culture and traditions as Irishmen are very much a part of their identity, meaning of course, that they're also hard-drinking, hard-swearing, always-fighting, and comically irreverent.
The story begins when the brothers get into a bar fight with some Russian mobsters who come to their house later to exact revenge by executing them at gunpoint. The brothers defend themselves from the mobsters, killing them and taking their weapons, wallets, pagers, and other personal effects. While sleeping in a cell under protective police custody, the brothers decide to rid Boston of violent crime by becoming vigilantes and killing organized crime bosses and their minions.
The question at the center of the entire plot– a question that FBI Special Agent Paul Smecker (played by Willem Dafoe) struggles with throughout the movie as he tries to find these serial vigilantes– is at what point has a society's government broken down so much, become so corrupt, so ineffective, so impotent, so futile– that good, upstanding men and women have to take matters into their own hands, fight violent criminals themselves, and act as vigilantes to keep their community safe? At what point is the government just protecting criminals and their racket, allowing them to roam the streets to pillage and murder with impunity?
As a blogger for Silver Circle, I'm very interested in the parallels between Boondock Saints and Silver Circle. Both are independent films. Both are about rebels frustrated with a broken system and fighting for their freedoms as best they can. Both are packed with action and suspense. Both have a political message, or at least convey the importance of political questions our society faces. Silver Circle is definitely more family-friendly than Saints, with its dizzying number of F-words ( –and yeah, that's not likely to be safe for work) and realistic, graphic violence.
If you like action-packed thrillers with some political punch, you'll enjoy Boondock Saints and you'll doubly enjoy its homage to Irish culture if you catch it sometime later this week with the revelry of Saint Patrick's Day still fresh on your mind. And of course you'll love catching Silver Circle when it comes out later this year.
And don't forget to visit our official website to learn more about the Silver Circle Movie:http://SilverCircleMovie.com
Posted by: