Rich Paul is facing 81 years rather than become an FBI informant
April 24th, 2013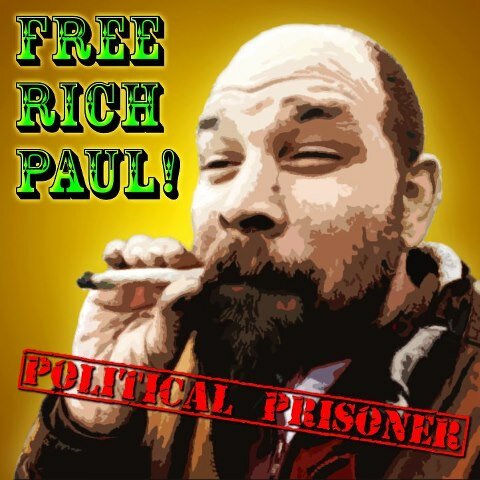 Rich Paul is New Hampshire's most prominent 420 freedom fighter and he's been embroiled in a nefarious plot by the FBI to lock him in a cage for the rest of his life for victimless commerce. He's now been convicted of selling marijuana, or as he puts it "selling flowers" and now faces 81 years in jail in felony charges after refusing to wear a wire to entrap other liberty activists in Keene. The FBI offered to drop all the charges and release him if he became an undercover informant for the FBI against his fellow freedom fighters in the Free State Project.
Rich rejected the FBI's nefarious plot and instead attempted to convince a jury to grant him an acquittal using a jury nullification defense. New Hampshire is the only state in the nation to legally recognize jury nullification as a defense.
It's important to point out that we're not talking about a common drug dealer. We're talking about a passionate liberty activist who, according to Free Keene "caught the ire of local city officials and law enforcement" through acts of civil disobedience, holding marijuana rallies and other peaceful protests with other Free Keene activists. In Rich's own words, "The War on Drugs killed my girlfriend, so I'm going to kill the War on Drugs."
There is no doubt in my mind that Rich Paul was targeted for his political activism. He was not caught in some routine drug bust, but was set up by a police informant in an undercover sting operation. Further, once in custody he was not interrogated by a DEA agent, but by an agent from the Joint Terrorism Task Force. And finally, their plea offer didn't involve ratting on his supplier, which is the typical Drug War strategy, but instead involved sending him into the activist community as an informant, something more common to the War on Terror.
Paul refused to be used as an FBI pawn and took his chances going to trial, similar to Doug Darrell who was charged with marijuana cultivation in New Hampshire, confessed in court using the jury nullification defense and was acquitted.
I could recount all the facts of the case, but it's really easier to hear Rich Paul explain his predicament in his own words thanks to Derrick J from Peace News Now.
It seems this jury, when faced with a contradiction between justice and law, chose law. It's shameful. Rich was found guilty on multiple felony counts of selling cannabis to consenting customers and one count of selling LSD, which prosecutes provided no evidence of, but that didn't matter to this jury.
When I see injustices as egregious as this my only solace is a quote from Hunter S. Thompson who once said, "Many fine books have been written in prison." Thompson was talking about his particular brand of 70′s psychedelic fiction, but keep in mind that some of Martin Luther King Jr.'s most famous writing was done from a cage in Birmingham Jail.
I don't know if Rich Paul is much of a writer, but he has plenty of time to develop his craft, and considering the Free Keene Activists jokingly refer to Cheshire County House of Corrections as the Keene Spiritual Retreat, Rich may have just secured himself a role as a kind of spiritual leader of the movement from here on. Involuntary detention can do amazing things to an activists convictions. The drug warriors have only transformed him into a hero, a bullhorn, and a war cry for his cause. It's not good news… but it's a silver lining.
You can write to Rich Paul using the serices at Mail To Jail.
Find out where you can see Silver Circle by checking our theater and special screening schedule on  -->our event page -->.