Liberty Forum Roundup
March 3rd, 2013

We've been home from New Hampshire for about a week now, and most of the photographers and videographers have uploaded their content now, and most of our radio interviews have made it to their respective archives. So, I thought I'd put it all in one place for you.
Thursday night we kicked off the festivities with the first ever theatrical screening of the finished Silver Circle Movie. It was a night of Dinner Theater at Chunky's Cinema in Nashua New Hampshire, and it was a sold-out show. Here's some photos from the screening.
Running a sound check and screen check to an empty room. Gotta make sure everything's running smoothly.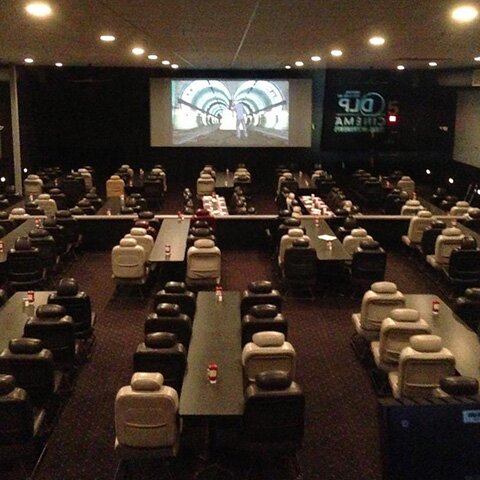 From left to right: Pasha Roberts (Precious Metal Head), Davi Barker (Marketing Agent), Matt McCarthy (Animator), Diego Aguirre (Animator), Ben Pugh (Associate Producer and Editor).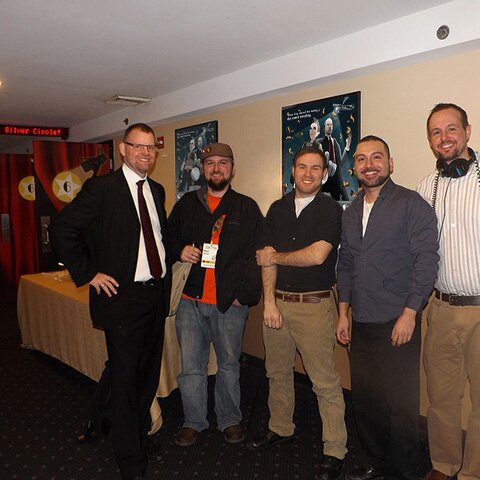 Pasha in the Projection Room ensuring that the double Top Secret executive copy of the film doesn't fall into enemy hands.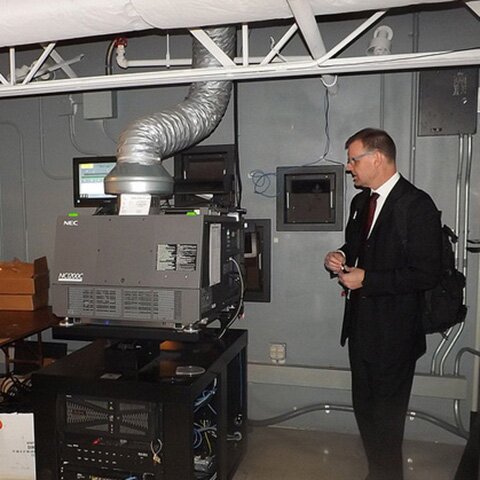 And our lovely Marketing Manager, Megan Duffield as greeter.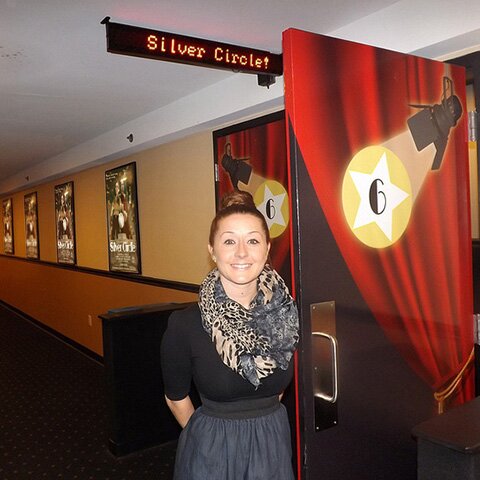 And then they began arriving…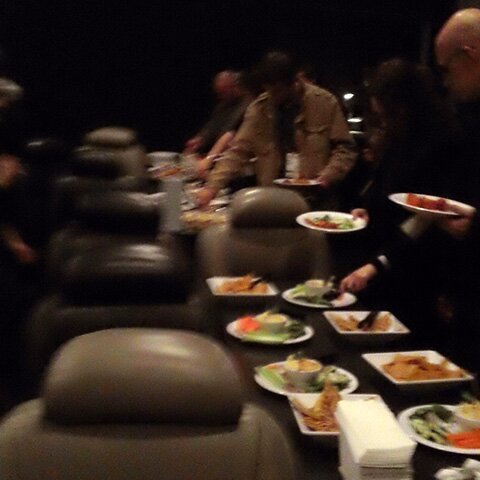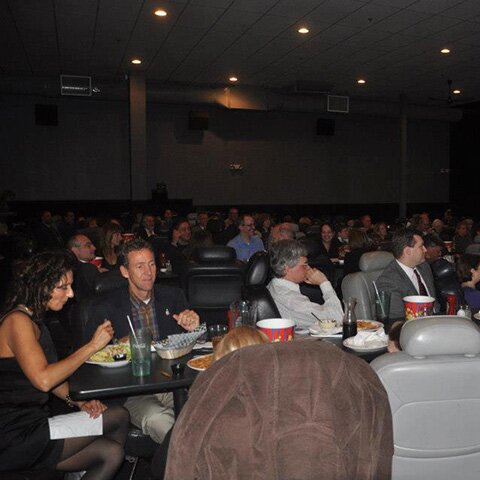 With the house packed and the food served, it was time to start the show.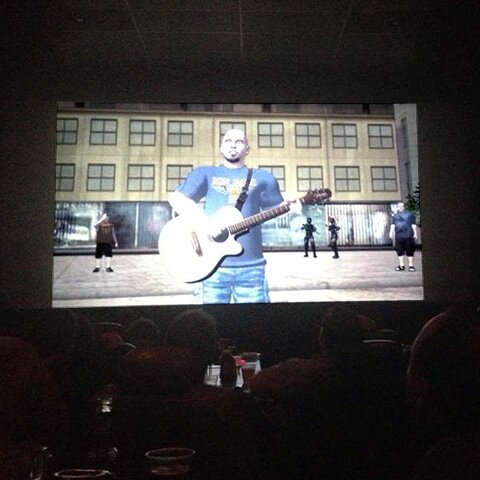 Can you tell our resident Precious Metal Head is dressed in Agent Jay cosplay?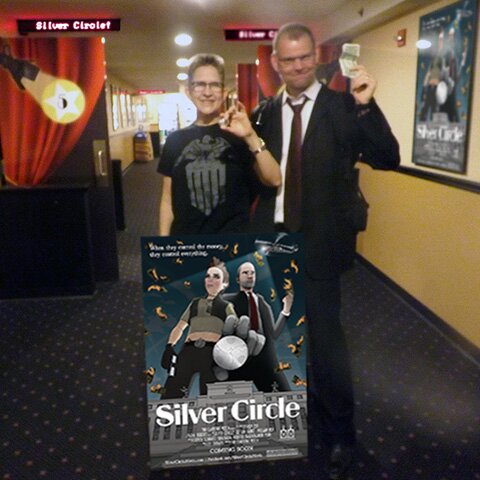 For the rest of Liberty Forum you'd find our Crew at the Silver Circle table in the main lobby where you could get stickers, and tshirts, and hats and graphic novels. For the right price you could even walk away with our own Silver Rebel Rounds.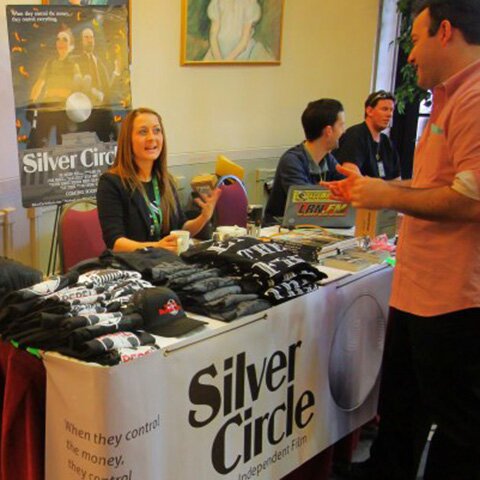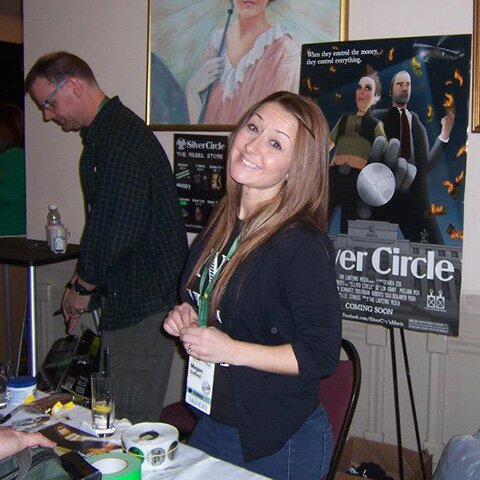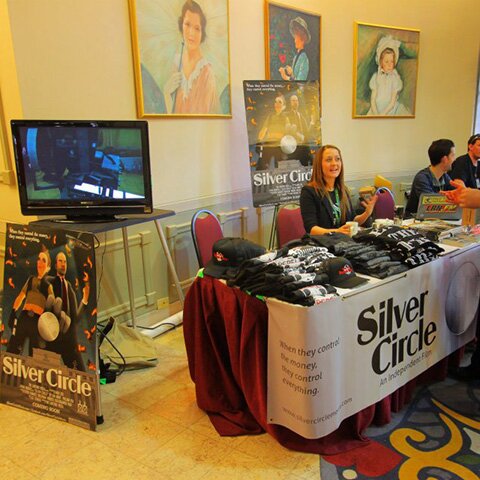 Hat-tip to our neighbor Ian Freeman from the FreeKeene.com table for his gestures of solidarity.
Throughout the event members of the Silver Circle Crew appeared on numerous radio shows and podcasts. This image comes from Pasha's appearance on Free Talk Live. Here's links to all the audio:
Ferb, from Freedom Book Club mentioned the Silver Circle Graphic Novel on Free Talk Live on February 21st. (Starts at 48:00)
Pasha Roberts appeared on Free Talk Live on February 22nd. (Starts at 20:00) Later in the same show Davi Barker appeared on the show. (Starts at 1:27:00)
Tarrin Lupo, talked up the Chunky's Screening on Declare Your Independence with Ernest Hancock on February 22nd. (Starts at 44:00)
Davi Barker talked up the Silver Circle Movie on the Ed and Ethan Show on February 24th. (Starts at 1:42:00)
Pasha Roberts appeared on Declare Your Independence with Ernest Hancock on February 26th. (Starts at 1:20:00)
Find out where you can see Silver Circle by checking our theater and special screening schedule on  -->our event page -->.