While Rand Filibustered Drones, Obama Dined with GOP Neocons
March 7th, 2013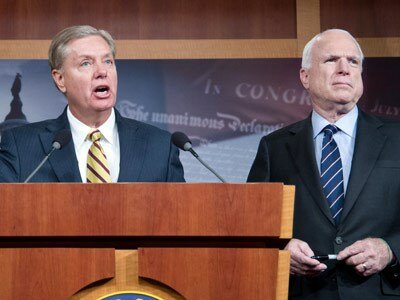 Beginning yesterday and ending early this morning, Kentucky Senator Rand Paul mounted a historic talking filibuster against the nomination of now-confirmed CIA Director John Brennan. After Attorney General Eric Holder initially issued a legal opinion that the executive branch has the authority to kill American citizens with a drone without due process, Senator Paul shut down the Senate for the day, denying himself bathroom breaks for 13 hours as he electrified the Twitterverse with his legendary "#standwithrand" "Randpage" against the extrajudicial killing of Americans.
With time, additional Republicans and even a Democrat joined Rand Paul's stand. However, while Rand was fighting for civil liberties, his opponents on the issue, Lindsey Graham and John McCain, both of whom are in favor of expanding the War on Terror to include the US homeland, met for a quiet, $100-per-plate dinner with President Obama.
Odd Timing
Allegedly, President Obama reached out to Senator Lindsey Graham and asked him to put together a group of GOP senators for a dinner meeting on entitlements. For whatever reason, Graham kept the list of invitees down to Republicans that support the administration's aggressive, unconstitutional anti-terrorism policies. Few of those on the invitation list were even fiscal conservatives to begin with (maybe Toomey and Coburn, depending on who's scoring), so it would be strange for a group of hawkish, big spending senators to meet on fiscal issues without including fiscally restrained legislators like Ted Cruz at least.
It seems like any senator with a working relationship with Rand Paul was left off the invitation list. Could this have had something to do with the filibuster itself? Few of the senators on the invitation list have confirmed whether or not they attended. However, John McCain and Lindsey Graham were the principle invitees. Today, both McCain and Graham took to the Senate floor to denounce Rand's historic filibuster.
The Declining Popularity of Graham and McCain
The establishment media is tripping over itself to congratulate Obama, McCain, and Graham for their bipartisan effort to achieve entitlement reform. If it turns out that drones were not the real subject of their meeting, then Obama may be making a political mistake by trying to build compromise on fiscal issues through the senators that he has chosen. On fiscal issues, McCain and Graham have a reputation for caving in and submitting to big government.
Meanwhile, Rand Paul's anti-drone filibuster efforts brought support from centrist Republicans like Marco Rubio. The entire conservative media establishment stayed up all night on the edge of their seats, cheering on Rand. If the purpose of the meeting between Obama, McCain, and Graham was to build support for entitlement reform, then why did the senators harm their own efforts by attacking their own party and blasting Rand's filibuster the next morning?
It's certainly possible that the dinner meeting was totally innocuous, but the timing and choice of guests appear significant.
Find out where you can see Silver Circle by checking our theater and special screening schedule on  -->our event page -->.