50% off all shirts – including End the Fed!
February 14th, 2014
During the entire month of February, Silver Circle is offering a phenomenal discount on t-shirts. Every shirt is 50% off, meaning $10 ea! This includes our entire selection of designs…even the timeless "End the Fed" tee!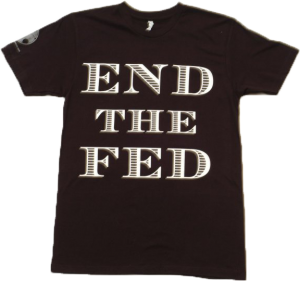 We have a great selection of Silver Circle shirts, that include women's sizes as well as XXL+. One of our first designs, the "Rebel Tee" – sports the Silver Circle logo and a hat tip to Zoe and the Rebel Crew in the film. Our Fed Punisher shirt and "F'ed Reserve" system shirt always get a chuckle, and on top of it, is super comfy.
The value in this deal couldn't be more exciting. Maybe for Valentine's Day you and your beau can sport matching End the Fed shirts? That sounds romantic to me! It's really simple, visit our store, select your shirts and at checkout type in the coupon code: FEB50 to receive the huge discount.
There will be more and more deals in the coming months at our Silver Circle store; this is just the beginning! For now, enjoy a $10 shirts during the entire month of February.
…I have a feeling the End the Fed tees will move quick, so act fast!